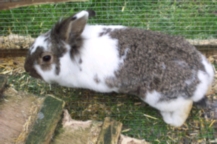 This is Mistletoe (Misty). This is Sapphire (Sapphie). She This is Holly. She was a Christmas
I got her the same time as was given to us by a friend. She present in 2001.
Holly. Sadly Misty died on Sadly Sapphie died the same
my birthday in July 2005 day as Misty.